Tribute to Mr. Vsevolod Dmitrieff
Tribute to Mr. Vsevolod Dmitrieff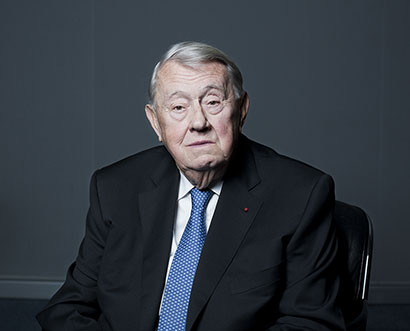 It is with great sadness that CNIM's Supervisory Board must announce the death of Vsevolod Dmitrieff, Chairman of the Supervisory Board, in Paris on 19 March 2016. He was 94 years old. Mr. Dmitrieff defined himself as "an industrialist who was deeply committed to his family, his company and his adopted country".
Born in the USSR in 1922 to a family of engineers, industrialists, architects and intellectuals, Vsevolod Dmitrieff arrived in France in 1924. Upon graduation from the École des Mines, he began his career at the French Overseas Mining Bureau before joining his father-in-law André Herlicq's company Herlicq Group in 1966. Appointed Director of the Group's naval construction subsidiary Forges et Chantiers de la Méditerranée (FCM), which was rebranded as Constructions Navales et Industrielles de la Méditerranée (CNIM) that same year, he was the main driving force behind the development of land-based activities at the La Seyne-sur-Mer naval shipyard, including the manufacture of missile launch tubes, household waste incineration plants, industrial boilers and escalators. In addition, it was thanks to him that these activities were not included in the major naval shipyard reorganization project carried out under state supervision in 1982.
That was the real starting point of CNIM, a family-run company which remains independent to this day.
Mr. Dmitrieff served as Chairman and Managing Director for 20 years. With the support of Deputy Managing Director François Canellas he expanded the Group around the world, resolutely championing innovation and overcoming technical challenges, which greatly enhanced CNIM's reputation, e.g. the motorized floating bridge. He was also the leading figure behind the acquisition of Babcock-Entreprises and, crucially, Alstom's waste treatment activities, which gave CNIM a global presence in this strategic business line. In 2002, following a change to the Group's organizational structure, Mr. Dmitrieff was appointed Chairman of the Supervisory Board while Mr. Canellas became Chairman of the Management Board.
In 2009, his son Nicolas Dmitrieff was appointed Chairman of the Management Board. From then on, as Chairman of the Supervisory Board, Vsevolod Dmitrieff continued to play a major role in defining the Group's strategy.
An engineer by training and an industrialist at heart, Vsevolod Dmitrieff was a genuine entrepreneur. Upon arrival in France, he set himself the goal of creating a new future for his family and giving back to his adopted country what it had given him. Under the leadership of Nicolas Dmitrieff, the Group and all its staff will continue his work and remain faithful to his values.