of turnover outside France
Recurring operating income
Group revenues by sector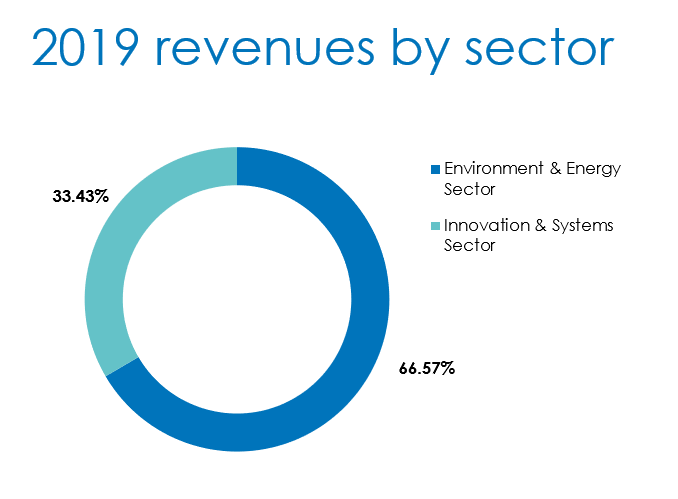 CNIM's financial reporting is divided into two sections:
The Environment & Energy sector covers waste treatment and recovery, renewable energy, emissions management and energy efficiency.

The Innovation & Systems sector covers equipment for the nuclear industry and large-scale scientific instruments, defense, digital security and intelligence, consultancy and innovative engineering services, industrial solutions and life science solutions.
Governance
The Management Board
The Management Board is the Group's management body. It defines and implements strategic orientations under the supervision of the Supervisory Board.
The Group Directors Committee
The Group Directors Committee includes the members of the Management Board, the other Group functional directors as well as the directors managing the main business lines. The Group Directors Committee oversees the Group's various activities, its organization, and its operating performances. It ensures that decisions taken by the Management Board are applied evenly.
The Supervisory Board
The Supervisory Board decides the strategic directions to be taken by the Group. It also ensures that the management and auditing carried out by the Management Board guarantees the reliability of the financial information published by the company.
The Audit Committee
The Audit Committee verifies the accuracy and reliability of CNIM's corporate and consolidated accounts, along with the internal quality controls and the information provided to shareholders and financial markets.
The Strategy Committee
The Strategy Committee supports the work of the Supervisory Board in defining the key strategic directions to be taken by the company and its subsidiaries, both in terms of economic sectors and geographical locations.
For more information on CNIM's statutes and on the management committees, please consult the 2019 Universal Registration Document