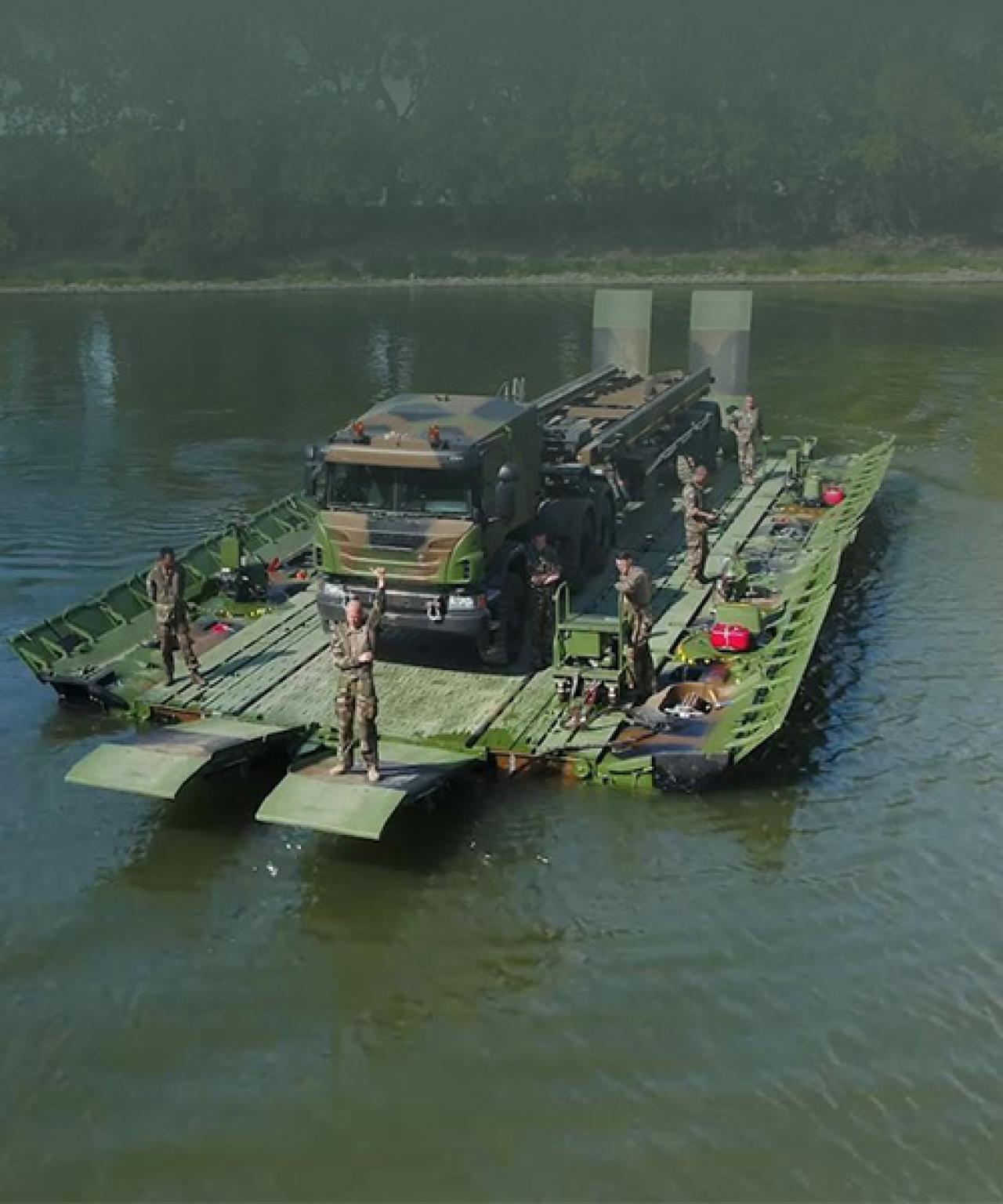 Upgraded Motorized Floating Bridge: the solution for tactical crossing requirements
Personnel for one 20 m ferry


Ramp incorporated into module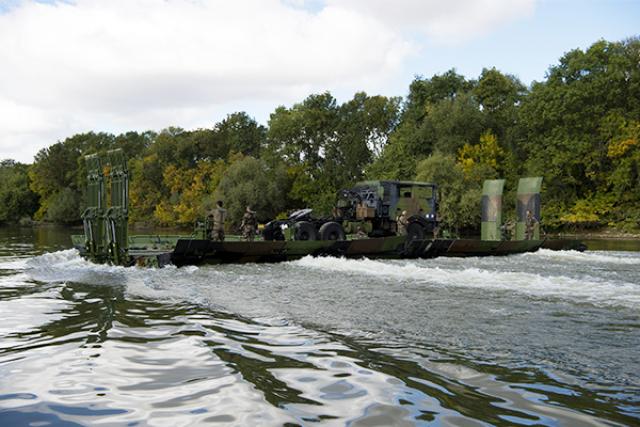 Video
PFM Upgrades - Tactical Floating Bridge - CNIM
Meeting new operational needs
Without compromising the crossing capabilities of the existing version, CNIM Systèmes Industriels has reduced the logistic support requirements of its PFM Motorized Floating Bridge to answer the new operational needs of the French Army:
optimizing human resources: a single remote control station to operate the PFM modules
Reducing the logistics footprint and cutting deployment time: ramps incorporated in modules
Example of savings made for a
20-meter ferry:
Number of vehicle: -50%

Personnel: -70%
French Army proven performances
In October 2018, the technical section of the French Army responsible for managing armament programs, proceeded with the technical and operational evaluation (EVTO) of the Upgraded Motorized Floating Bridge (PFM F2)
The French Army underlined the new tactical and operational strengths of the upgraded PFM.
"Feedback on France's recent engagements, notably in Africa, clearly illustrated the need for a wet gap crossing capability providing
a vital operational advantage" explains the Manager of this evaluation procedure
In this context, the PFM represents a major advantage for wet gap crossing operations.
"Renovating the PFM was aimed at extending its crossing capabilities, from logistical crossing to tactical crossing operations,
while preserving all its existing capabilities,"  adds Major Quentin, in charge of the Renovated PFM evaluation campaign.
New capabilities for French wet gap crossing technology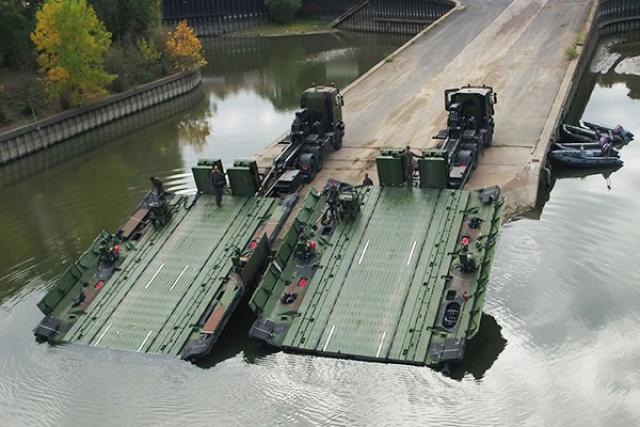 Reducing the logistic footprint
The incorporation of short ramps into modules reduces the number of vehicles  required to transport the PFM.
Only 2 trucks are needed, instead of 4, for a 20-m ferry.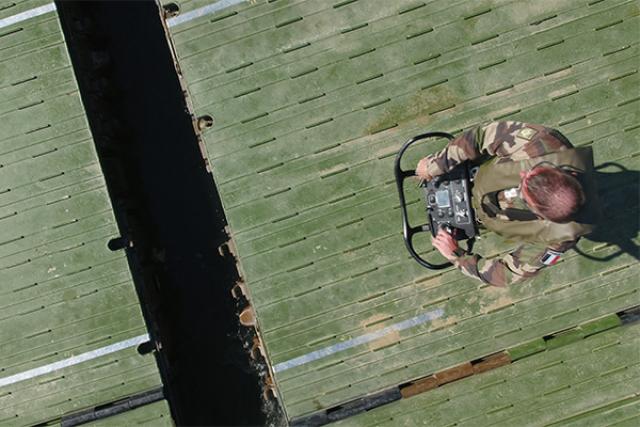 Optimizing human resources
CNIM Systèmes Industriels and Bertin Technologies have designed a new single remote control station able to control all the propulsion units of one ferry.
With 360° easy handling, it can be used by day or night.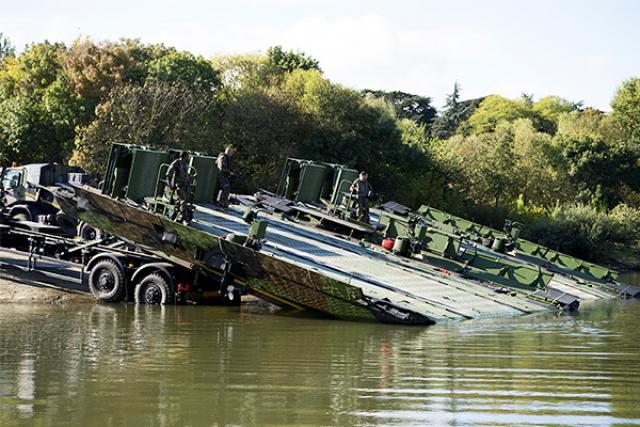 Quick and simple implementation
Thanks to its new features (integrated ramps and single remote control), the Ugraded PFM offers even better performances.
For a ferry with 2 modules and 2 ramps:
4 personnel

(compared with 13 for the earlier PFM version)

Implementation time: 10 minutes
For a 100-m bridge:
33 personnel

(compared with 42 for the earlier PFM version )

Implementation time: 30 minutes

Flow of 250 vehicles an hour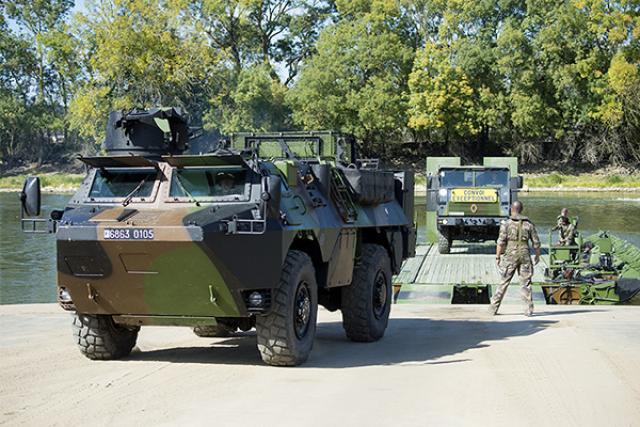 Expeditionary operations
Transported on trucks fitted with armored cabs or by cargo planes (one Antonov AN124 can carry an MLC40 vehicle), the PFM is a major asset for expeditionary operations.
Compliant with NATO standards and the FINABEL Convention, the PFM can be used to support Allied operations.
The upgraded PFM has been adapted to the requirement of future Scorpion units.