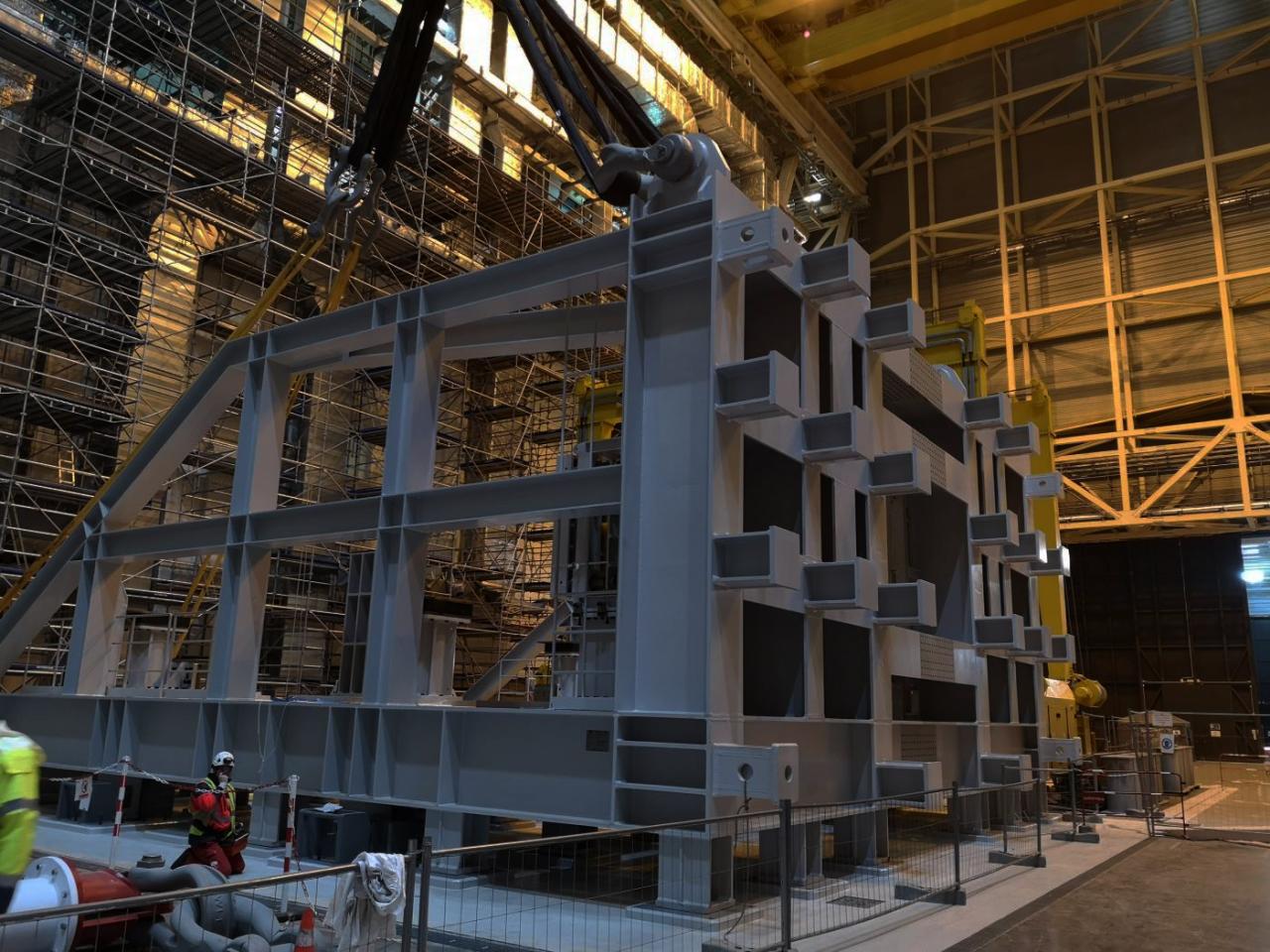 Successful installation of the ITER Upending Tool for components weighing up to 440 tonnes
Installation réussie de l'Upending Tool sur le site d'ITER à Cadarache!
En février 2020, CNIM Systèmes Industriels (CSI) a assemblé avec succès l'Upending Tool, un outil spécifique de 200 tonnes conçu pour assembler, soulever et manœuvrer vers leur emplacement définitif les composants d'ITER, pesant plusieurs centaines de tonnes.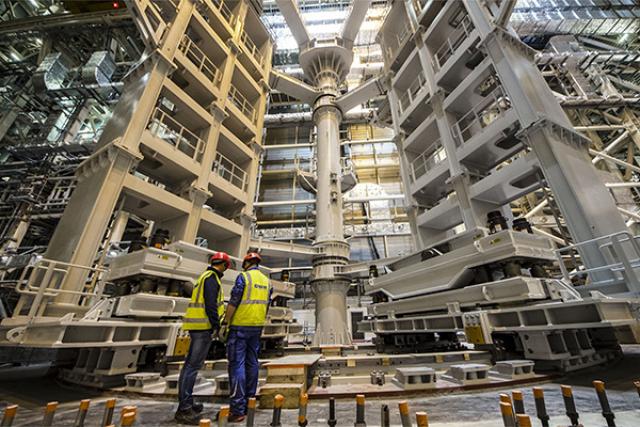 Manutention lourde de grande dimension : l'expertise reconnue de CSI
Après l'installation réussie des deux SSAT dans le bâtiment d'assemblage d'ITER, CNIM Systèmes Industriels s'est vu confier par ITER Org fin 2018 le contrat relatif à l'installation de l'Upending Tool.
Compte tenu de son expertise dans l'assemblage de pièces de grande dimension et de la présence d'une équipe qualifiée sur le site ITER, CSI était le partenaire incontournable pour mener à bien ce contrat.
SSAT @ITER Org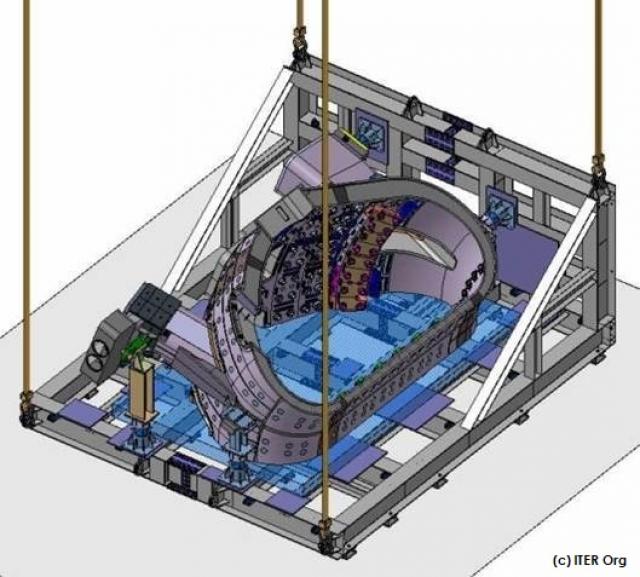 L'Upending, un système de manutention clé pour le montage d'ITER
L'Upending tool, fabriqué par DOOSAN, un partenaire coréen, est un outil essentiel au redressement des composants allant jusqu'à 440 tonnes avant leur installation au sein du tokamak.
Les différentes sections à installer dans le tokamak sont livrées sur site en position horizontale et doivent être intégrées en position verticale. L'Upending Tool permet la manutention délicate des 9 secteurs de l'enceinte à vide et des 18 aimants toroïdaux (TF Coils). Une fois redressés, ces éléments sont levés par un pont, acheminés vers les SSAT, puis installés définitivement dans le tokamak.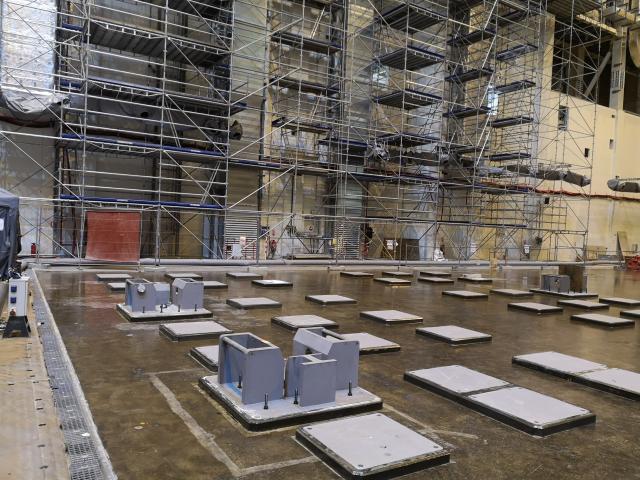 Une préparation millimétrée pour un assemblage réussi
Afin de pouvoir accueillir les 200 tonnes de l'Upending Tool, les équipes de CSI ont mené à bien un travail de précision en un temps record (10 mois) :
 / Fabrication et installation des 44 plaques de fixation au sol en acier noir de 250 kilos chacune et des 4 pieds de sécurisation de l'Upending tool
/ Fixation de plus de 5 000 boulons,
/ Réalisation d'un béton de calage spécifique (avec du coffrage à façon en 3 coulées sur 9 jours) afin d'assurer une excellente qualité et de disposer d'un béton capable de supporter les charges à venir de plusieurs tonnes,
/ Installation des tiges d'ancrage.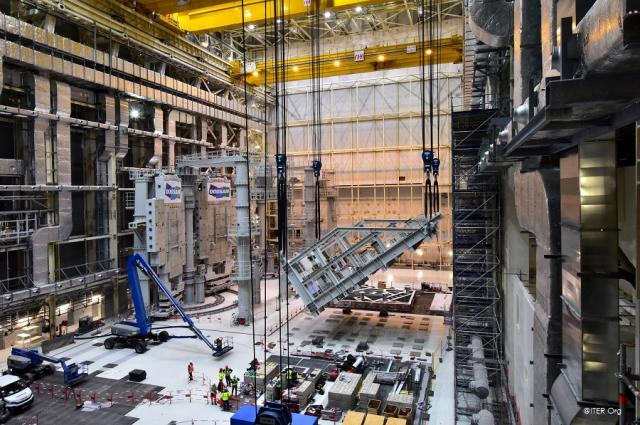 Une formidable réussite
Les compétences des équipes ont été mobilisées en marquage, métrologie haute précision (réglages au millimètre), perçage et peinture.
 Des tests ont notamment été effectués avec les équipes du projet ITER afin de vérifier la planéité des points d'appui et ont donné entière satisfaction !
Timelapse des tests d'assemblage de l'Upending Tool