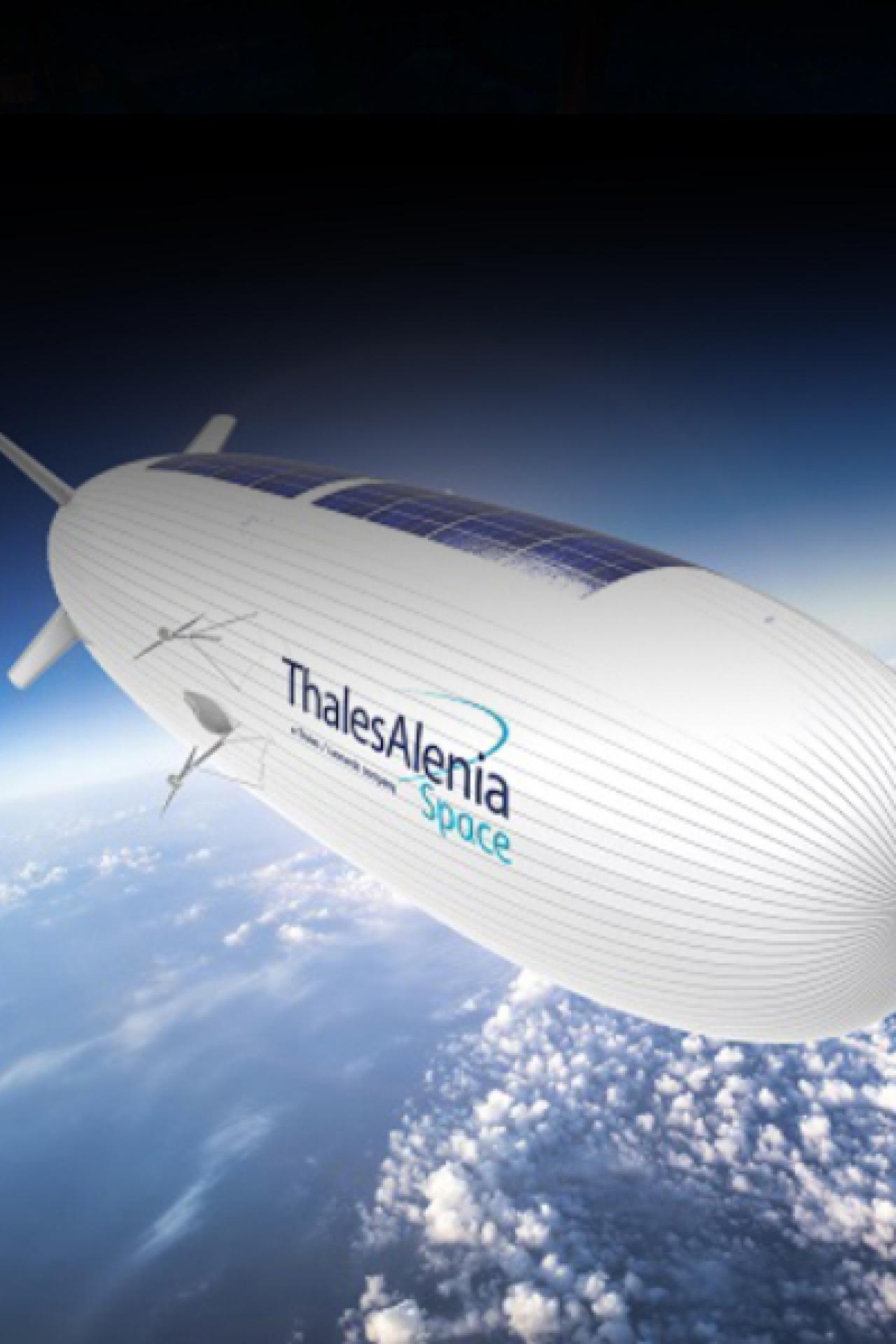 Successful design and testing for the Stratobus airship's Gondola Mobility System
adapté aux conditions de la stratosphère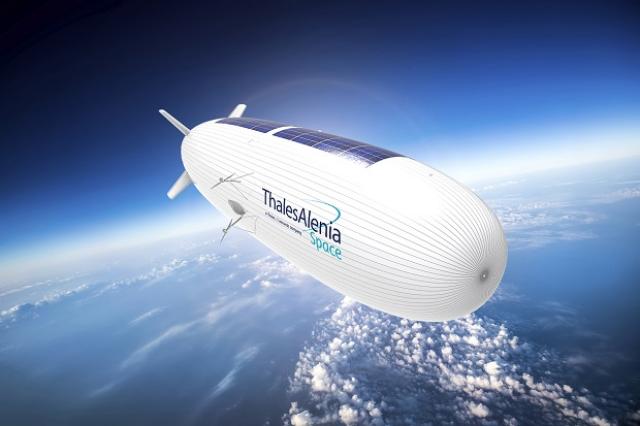 Video
More information about Stratobus
CNIM Systèmes Industriels, a key partner of the STRATOBUS programme
Stratobus is an 85,000 cu. m airship designed to operate at an altitude of 20 km, in the lower layer of the stratosphere.
 Offering a 250 kg payload, upgradeable to 450 kg, Stratobus will carry equipment to support civilian and military telecommunications, monitoring, observation and navigation missions.
Designed for geostationary operation (but mobile if required), and self-sufficient from an energy perspective thanks to its four electric motors powered by solar panels during the day and by batteries at night, the craft can remain on station for up to a year.
Tethered aerostats & Airships
We are delighted to be working with CNIM Systèmes Industriels as a key partner in the Stratobus project. CNIM has been involved from the outset, subsequently stepping up its contribution by supplying ground support resources and acquiring AirStar Aerospace. The full-scale mock-up of the nacelle is the result of a joint-engineering stage that demonstrated the viability and robustness of the Stratobus autonomous stratospheric aerostat's heliotropic mechanism
notes Yannick Combet, Thales Alenia Space's Project Manager for Stratobus.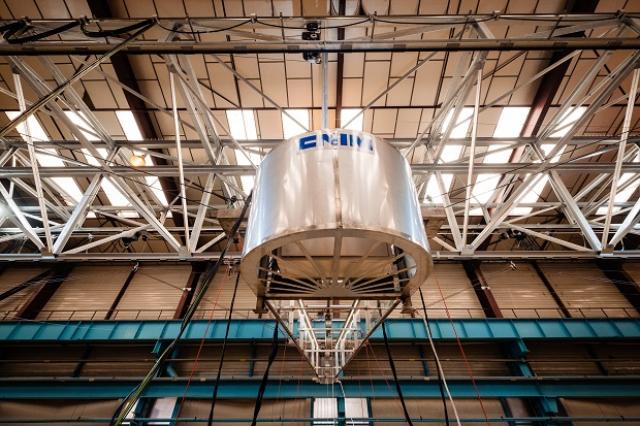 An innovative mobility system
CNIM Systèmes Industriels (CSI) develops the "Gondola Mobility System", a special subassembly on which the Stratobus communication and/or monitoring payloads are mounted, will enable the aerostat to rotate around its longitudinal axis.
This is necessary to enable the aerostat's solar panels to track the sun's movements in order to efficiently harness its radiant energy.
This is a critical system in ultralight carbon for the Stratobus's operation and energy independence.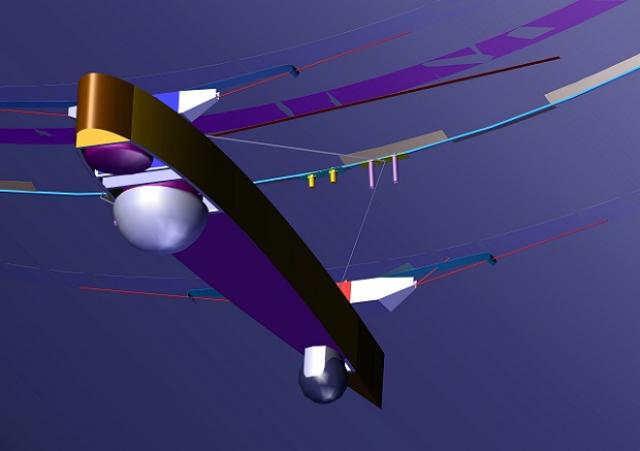 Key expertise for the space sector
CNIM Systèmes Industriels applied its core expertise to this technological challenge:
 
Advanced computing and simulation

High-precision electromechanical system design

Expertise in composite materials

Operational safety
Discover our industrial facility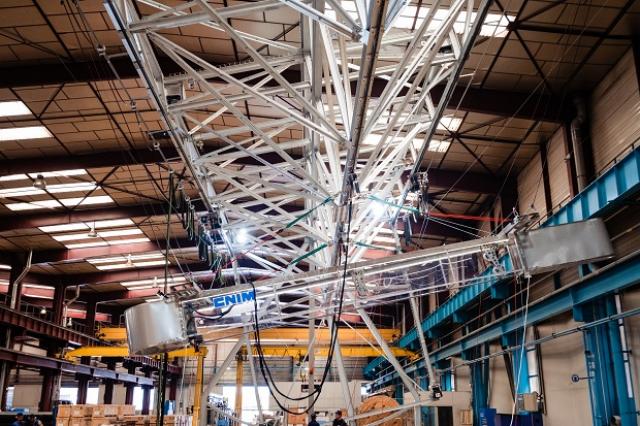 A mobility system patented
A joint patent application with Thales Alenia Space has been filed for the "Gondola Mobility System".
This is a complex system, due to its significant operating constraints: in addition to the rotation function, it must precisely maintain the nacelle's position while accommodating variations in inclination (in preparation for landing, for example) as well as significant expansion in the airship's fabric shell.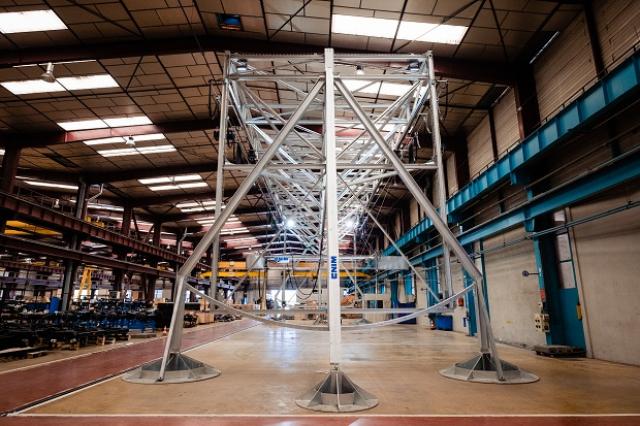 Building of a full-scale test bed
To validate the system and the performances of the mobility system, CSI has built a full-scale test bed infrastructure which measures 30 m in length and stands 10 m tall.
Our integrated industrial plant and technical capabilities were the key to building this large test facility. This is the ideal scale on which to validate a system that is extremely sensitive and must be finely adjusted
explains Maxime Lauer, CSI's Project Manager.