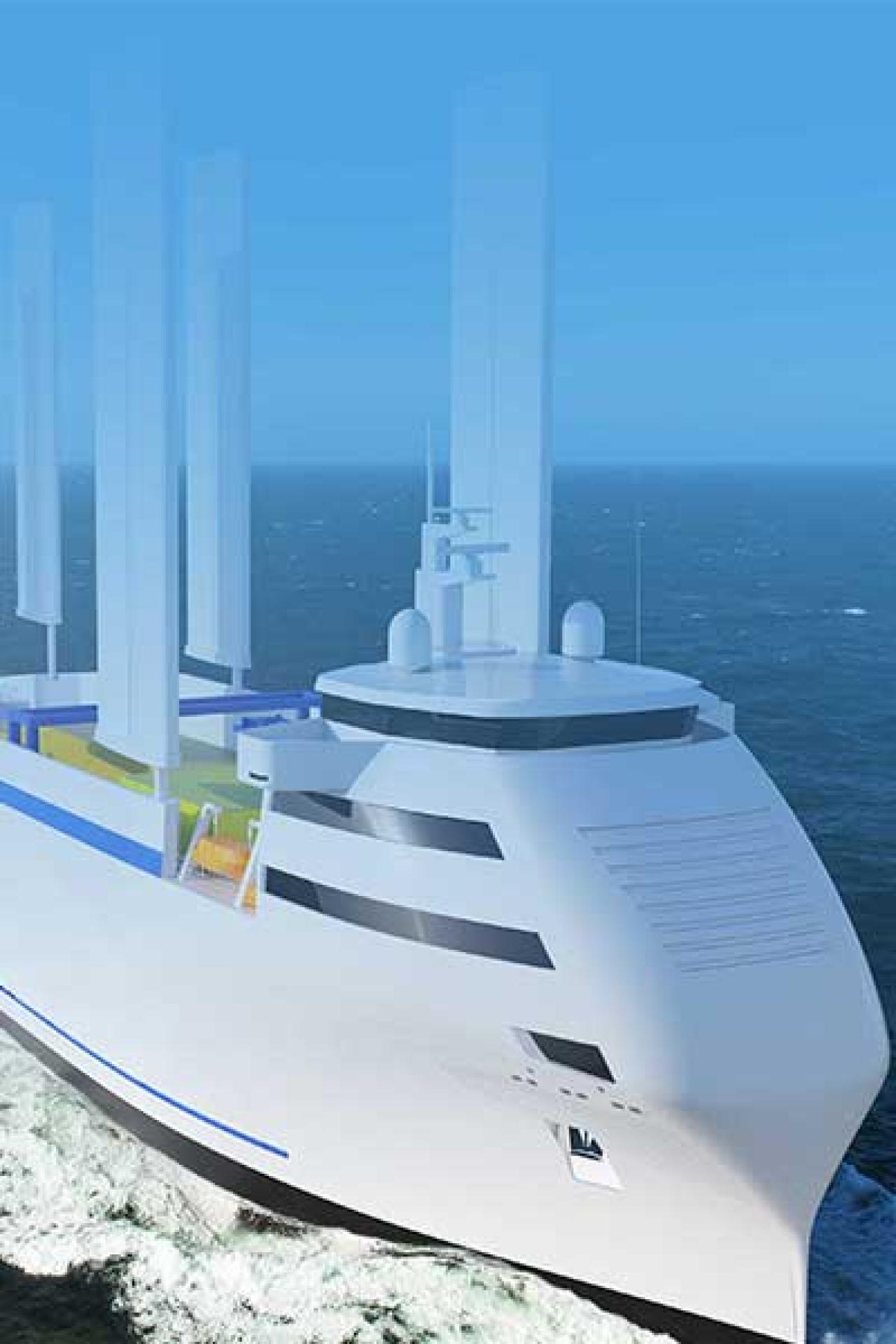 Oceanwings®, the smart wingsail for ship propulsion, ready to be manufactured
wingsail for Energy Observer in early 2019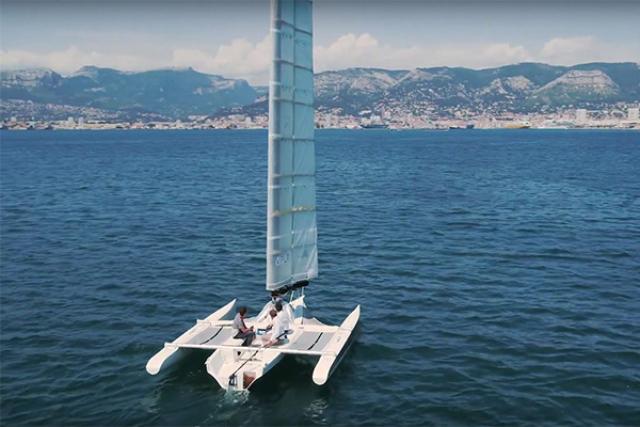 Video
The wingsail propulsion for the 21st century by VPLIP design
VPLP & CNIM : the mass production of a high-performance wingsail
Oceanwings® is a fully automated, furlable and reefable *high-performance wingsail, enabling hybrid propulsion featuring a mix of wind power and conventional propulsion.
Based on an original wind propulsion concept designed by VPLP Design, CNIM and VPLP Design completed in November 2018 the co-development of a product suitable for industrial production.
CNIM, a major player in the French industrial sector, provided its expertise to ensure that the design of Oceanwings® was consistent with the technical and industrial challenges associated with mass production.
*"Furlable" means that the area of the sail can be totally reduced.
"Reefable" means that it can be partly reduced.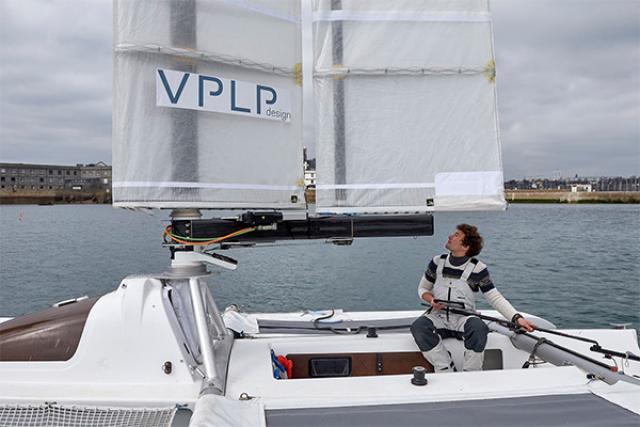 From prototype to industrial product - A successful joint design endeavour
In November 2017, CNIM and VPLP Design announced the signing of a technological partnership agreement relating to the design and manufacture of the Oceanwings® hybrid propulsion system.
Over the course of 2018, an integrated team with members from CNIM and VPLP Design was set up to tackle the challenge of developing a prototype into an industrial product without sacrificing the original performance.
"Oceanwings® blends the expertise of the two partners: CNIM, a 160-years old industrial company, very active in the product design and manufacturing for the naval sector; and VPLP Design, a firm of naval architects that has become a familiar name at the world's most prestigious sailing competitions. The combination of strong design and advanced industrialisation, informed by VPLP Design and CNIM's naval background, has resulted in a high value-added industrial product that will satisfy our customers' performance expectations while addressing the economic requirements dictated by the market."

Philippe Lazare, Chief Executive of the Industrial Systems division at CNIM.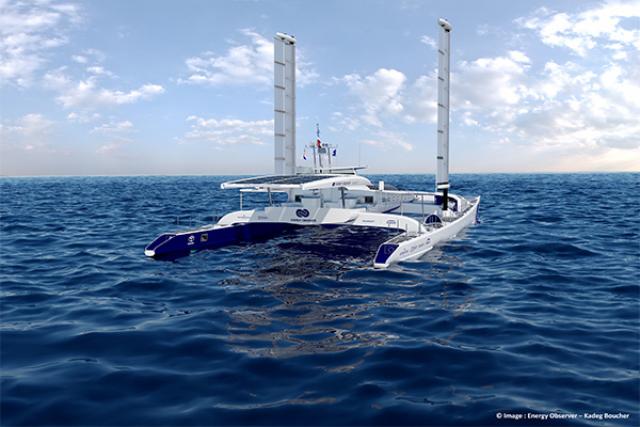 Oceanwings® onboard Energy Observer in 2019
Oceanwings® industrial demonstrator, featuring a 12 m tall composite mast and two 32 sq. m wingsails, is set to roll out from CNIM's industrial facilities in La Seyne-sur-mer during the first quarter of 2019 to be installed aboard Energy Observer, the world's first hydrogen-powered vessel to operate autonomously with no greenhouse gas or fine particle emissions.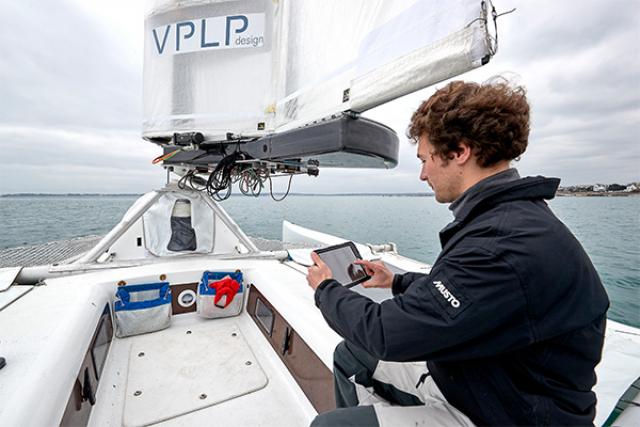 Suitable for all: automated sailing with no need for a specialist crew
Oceanwings® is based on a fully-automated system, enabling the wind to be harnessed as a source of propulsion with no need for a crew experienced in sailing techniques.
The wingsail is equipped with sensors connected to a navigation console that compares the sensor data against a theoretical baseline.
"Depending on the desired heading, the navigation console then sends appropriate setting instructions directly to the wingsail. No human intervention required. Everything happens automatically - just keep watch ahead!" 
adds Nicolas Sdez, the VPLP Design engineer who designed Oceanwings® prototype.
A solution for decarbonising the shipping industry
A robust product that harnesses renewable energy and pays for itself through fuel savings : primarily intended for the shipping industry, Oceanwings® bridges the gap between two worlds: engine-powered conventional propulsion, which has become the norm over the past 150 years; and wind power, a free, clean and universally available energy source that has been powering ships since the beginning of navigation.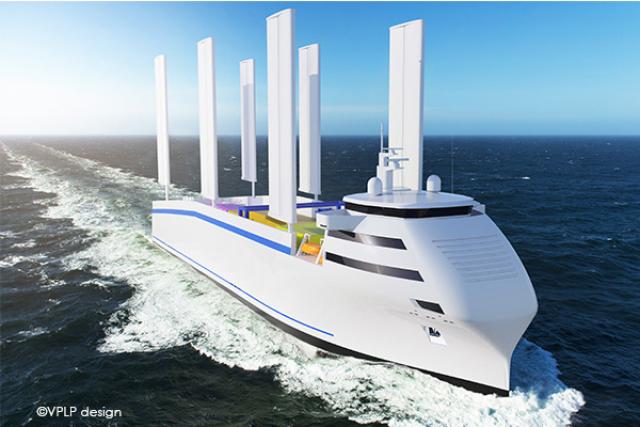 "We're not advocating a return to sailing ships. Our proposal is for hybrid shipping that blends renewable energy and modern technology. Ships will have a conventional propulsion system coupled to the new wind propulsion system and to a route planning application that suggests the optimum route based on meteorological conditions."
explains Gaëtan Breurec, Business Developer Manager for the maritime sector.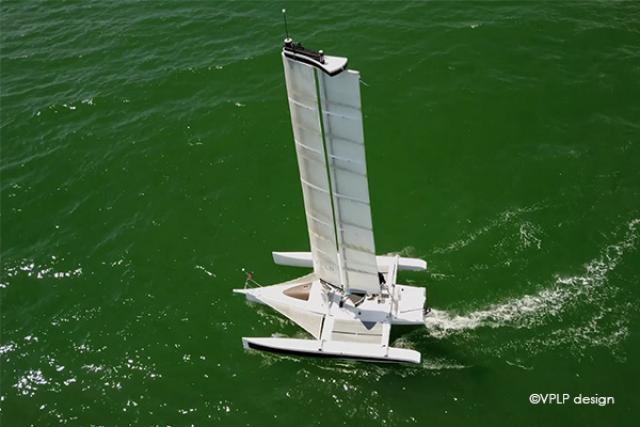 "We performed multiple simulations with a variety of vessels and different routes, in each case using actual meteorological data in order to accurately model real-life conditions. Our results pointed to potential fuel consumption savings ranging from 18 to 42%, depending on the route. That is a significant saving! The solution is very promising." 
notes Marc Van Peteghem, naval architect and co-founder of VPLP Design.
These fuel savings will enable carriers to fund the cost of Oceanwings® as they operate their ships.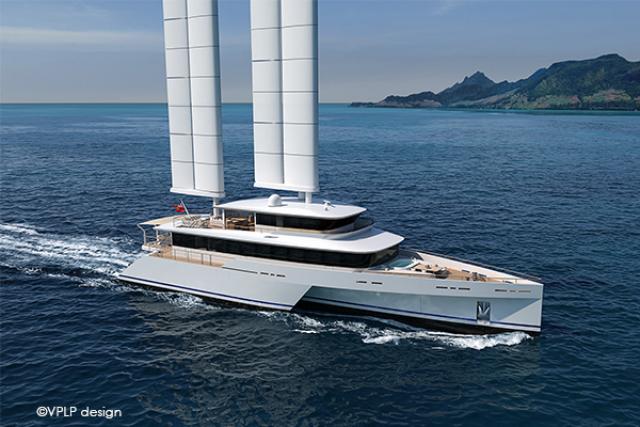 Yachting: all the comfort of sailing, without the restrictions
For the yachting market, Oceanwings® will be a high-tech, ultra-connected product, made using all-carbon fibre components better suited to mass production, and with aesthetic lines that blend harmoniously with the vessel's overall appearance.
On board, experience the true pleasure of sailing, with an uncluttered deck and no noise or vibrations.