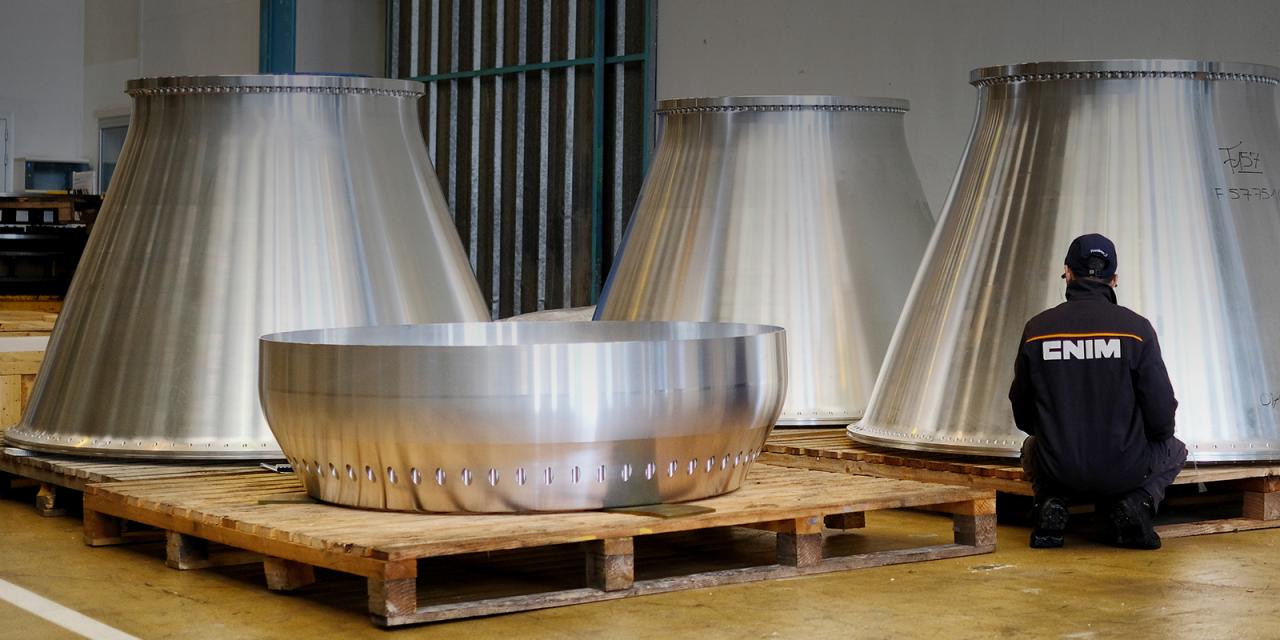 Nozzle casings for Ariane 5 and 6 rockets
nozzle casings manufactured for Ariane 5
18-year partnership between ArianeGroup & CNIM
Since 2004, CNIM Systèmes Induistriels has contributed to the reliability* of the Ariane 5 rocket by manufacturing all of the metal structures for the Ariane 5 nozzles. To date, CNIM Systèmes Industriels has produced more than 200 nozzle casings for the space player.
* "Ariane 5, the most reliable launcher on the market, holding the record for the number of successful consecutive launches" (Source ArianeGroup)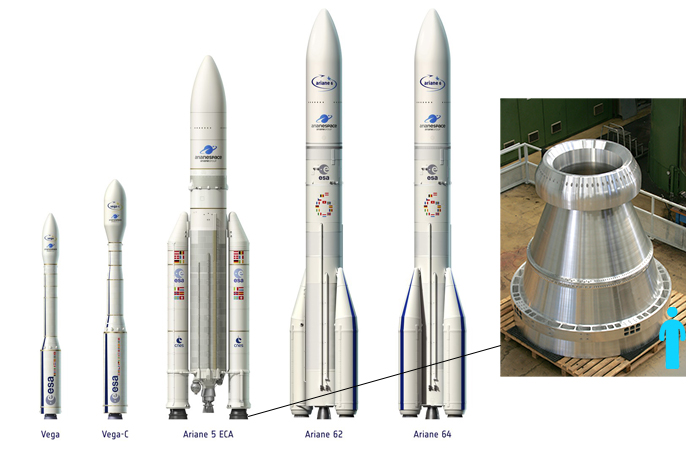 Ariane rockets and CNIM Systèmes Industriels nozzle structure CNIM ©ArianeGroup
The Ariane 5 boosters are made up of a main body and its nozzle. Located at the base of the thrusters, the 2 nozzles evacuate and guide the propulsion gases during the rocket's first flight phase.
Nozzle structures are made up of 3 parts, called "casings", assembled together. Subsequently, other parts are added inside the casings to form the complete nozzle.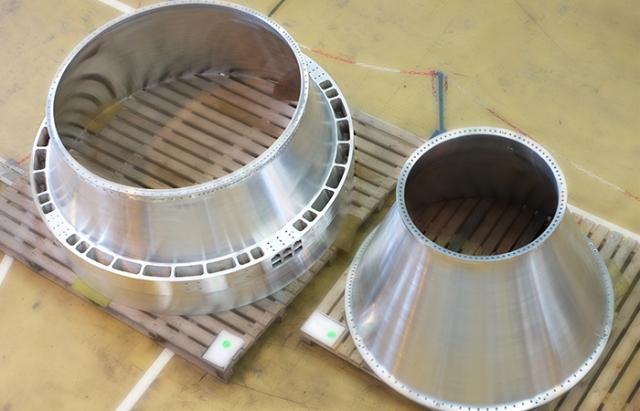 High precision, large size and flawless parts.
Production challenges lie in the manufacturing delay, large-scale machining precision and in the final sealing of the nozzle.
In 9 months, CNIM Systèmes Industriels carries out all the manufacturing stages of the Ariane 5 nozzle casing, from the raw material order to delivery to the customer. On average, 7 Ariane 5 rockets are produced per year to put satellites into orbit; i.e. 14 sets of casings per year to be manufactured by CNIM Systèmes Industriels.
The machining of casings for space applications is of a very high precision with a manufacturing tolerance of 0.01 mm on parts up to 2.8 m in diameter, 1.25 m high and weighing 770 kg *
*characteristics of the downstream casing. The nozzle and upstream casings have the following characteristics respectively: 1.74 m and 2.2 m in diameter; 0.5m and 1.4m high; 300kg and 295kg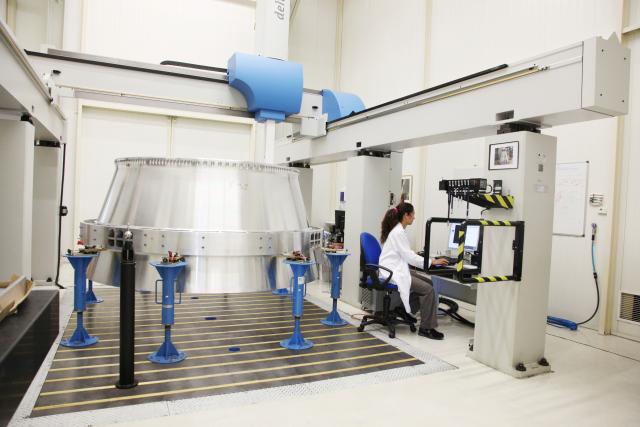 Contrôles tridimensionnels très haute précision
CNIM Systèmes Industriels possède des moyens de métrologie de grande dimension permettant de satisfaire les exigences qualité d'ArianeGroup. Les modes opératoires des procédés de fabrication ont été spécialement conçus pour répondre à la très grande précision demandée sur les pièces.
L'ensemble des carters sont contrôlés en 3D dans une salle de métrologie climatisée.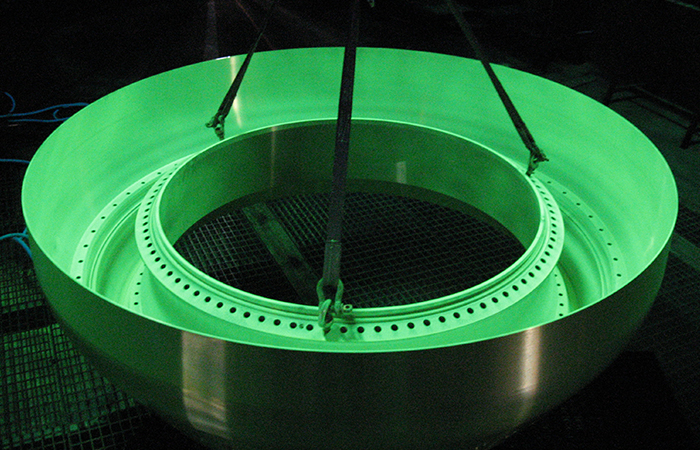 Contrôle par ressuage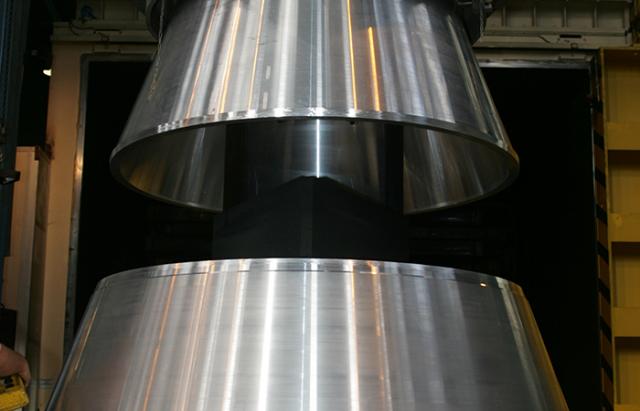 Soudage par faisceau d'électrons et usinage grande dimension
Jusqu'en 2008, CNIM Systèmes Industriels a utilisé le soudage par faisceau d'électrons pour assembler le carter aval (voir photo ci-contre). Puis CSI a approvisionné des bruts moulés et les a usinés avant de les contrôler et de les livrer à ArianeGroup.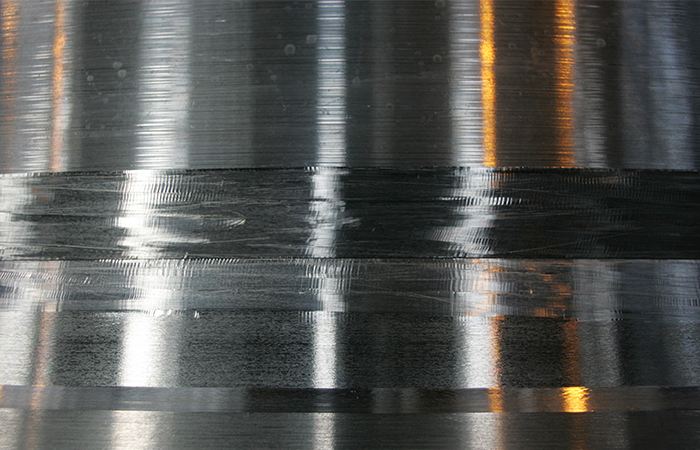 Soudure  par faisceau d'électrons entre les parties du carter aval.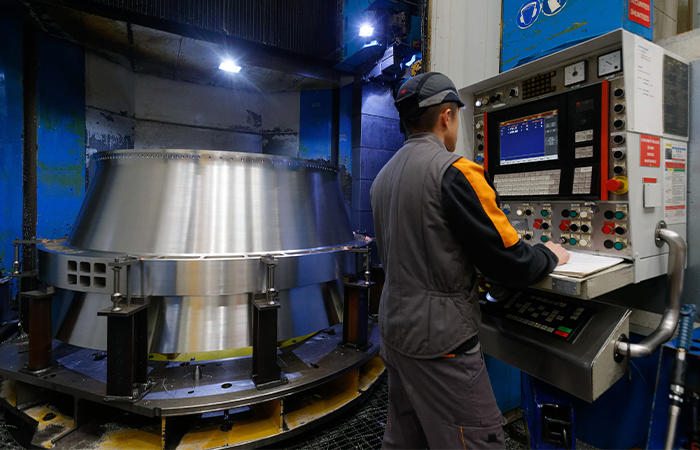 Tournage de grande dimension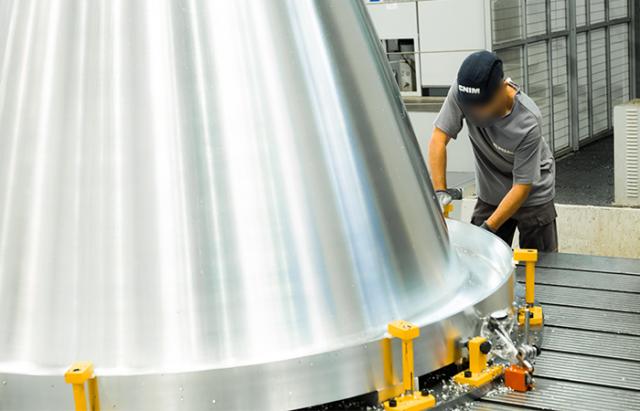 Ariane 6 : le partenariat continue entre CSI et l'acteur du spatial
En août 2018, ArianeGroup a renouvelé sa confiance en CNIM Systèmes Industriels en lui confiant la fabrication des carters de tuyères pour le lanceur Ariane 6.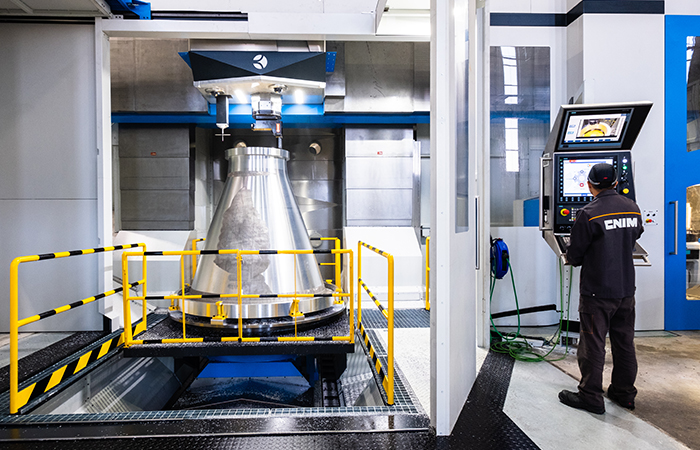 Usinage grande dimension pour ArianeGroup