CNIM CLASS brings together all the person-led theoretical training offers proposed by CNIM ACADEMY. The training can be face-to-face or remote, on an individual or group basis, based on the preferences of the operator and based on the subjects agreed in advance with the trainer.
This tailored training, using dynamic presentation tools, provides a detailed description of each function of a Waste-to-Recovery Plant. Besides the products and know-how of CNIM (boilers), LAB (smoke treatment) and our historic partner MARTIN GmbH (combustion grates), the training also covers the ancillary systems and equipment that make up the plant.
Really beneficial and pertinent training, providing an awareness of everything we might consider as a given and everything we might not necessarily know. 
Richard G. (Shift manager)
Person-led theoretical training
This training provides a detailed description of each function of a Waste-to-Energy plant. Designed to provide operators with the theoretical foundations of the technical functions of a Waste-to-Energy plant, the training is led by a trainer from CNIM ACADEMY, either remotely or face-to-face at the operator's choice. The expertise of the CNIM ACADEMY trainers offers a global vision of a Waste-to-Energy plant. From combustion grates to smoke treatment, service sinks to steam turbines. Auxiliary equipment and steam boilers are also included in the training programme..
RThe training is given using dynamic presentation tools such as electronic whiteboards, and is based on extensive interaction between trainer and trainees. Interactivity during person-led theoretical training maintains the curiosity of the trainees and promotes the understanding and acquisition of knowledge. The possibility of drawing on a shared medium, annotating diagrams and making useful additions directly means that a verbal explanation can be dynamically placed in parallel with a visual presentation. Each day, the training documents are supplemented by the comments and diagrams studied together and made available to trainees!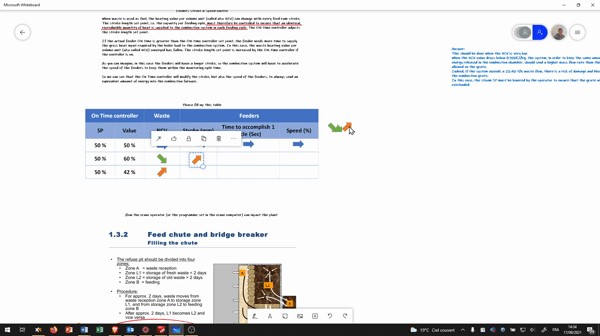 Our team is made up of three full-time trainers dedicated to CNIM ACADEMY..
Our common competencies mean we can offer you a broad range of training possibilities for your teams, including:
operation and control of the plant

,

knowledge of all the systems making up a Waste-to-Energy plant

,

comprehensive knowledge of the design and reactions of the process

,

knowledge of the control loops

.
Find out more about our other forms of training 
CNIM HANDS-ON, practical on-site training
CNIM DOT, our operation simulator
CNIM E-LEARN, our e-learning module
Contact us
For more information, contact us!