Intuitive and entertaining, the CNIM ACADEMY E-LEARN training offer is the most straightforward way of transmitting knowledge to trainees.
The offer provides access to more than 150 training modules. The modules cover all aspects of the Plant process right from reception of the waste: supply of the furnaces, combustion, steam production, all water-steam cycle equipment, turbine, condenser, supply and preparation of boiler water, smoke treatment and related equipment.  
Making full use of new e-Learning technologies, this training is divided into courses covering all the functional systems of the plant.
In turn, each course is divided into modules or chapters, progressing from basic concepts to detailed operational aspects. 
Available by annual subscription.
A digital training device accessible to anyone at any time!
Our e-Learning training is fully oriented towards operational aspects. The modules apply specifically to the operation of Waste-to-Energy Plants. The functions common to all Waste-to-Energy Plants are detailed and illustrated by solutions implemented by CNIM. 
The platform is accessible anytime, anywhere. You simply need a computer, tablet or smartphone connected to the Internet to access more than 150 training modules.
The training modules have been developed to take into account new web usage practices: short and targeted content (5 to 15 mins maximum).
The modules, organised on the basis of training courses and paths, guide the trainee and follow a logical presentation progression, with increasing levels of complexity. The progress of each trainee is saved at each level of the training course.
If the course is interrupted, the trainee picks up from the point at which they left off, providing convenient reading continuity.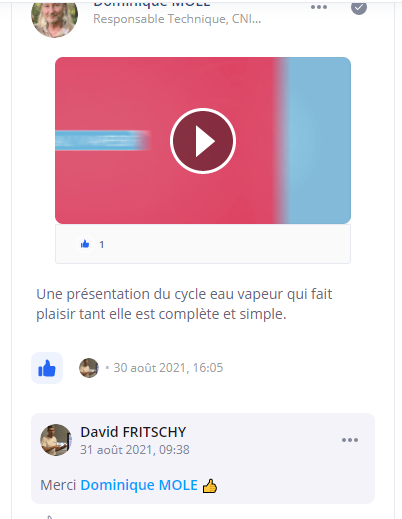 A forum allows for exchanges between trainees and experts, creating positive interactivity on the platform. CNIM ACADEMY can develop additional modules in response to the questions raised by the trainees.
Training comprising rich and entertaining content
A combination of films, animations, integrated information sheets and questionnaires and plenty of gamification, all in the same place. The result: an attractive e-Learning platform. 
The ergonomic interface ensures intuitive navigation accessible to all.
Are you ready for the rapid development of your skills, with complete autonomy and above all, when you want it, or when the need arises?
Trial our platform and our demo course. CLICK HERE.
Find out more about our other forms of training
CNIM CLASS, our person-led theoretical training (face-to-face or remote)
CNIM HANDS-ON, practical on-site training
CNIM DOT, our operation simulator
Contact us
For more information, contact us!