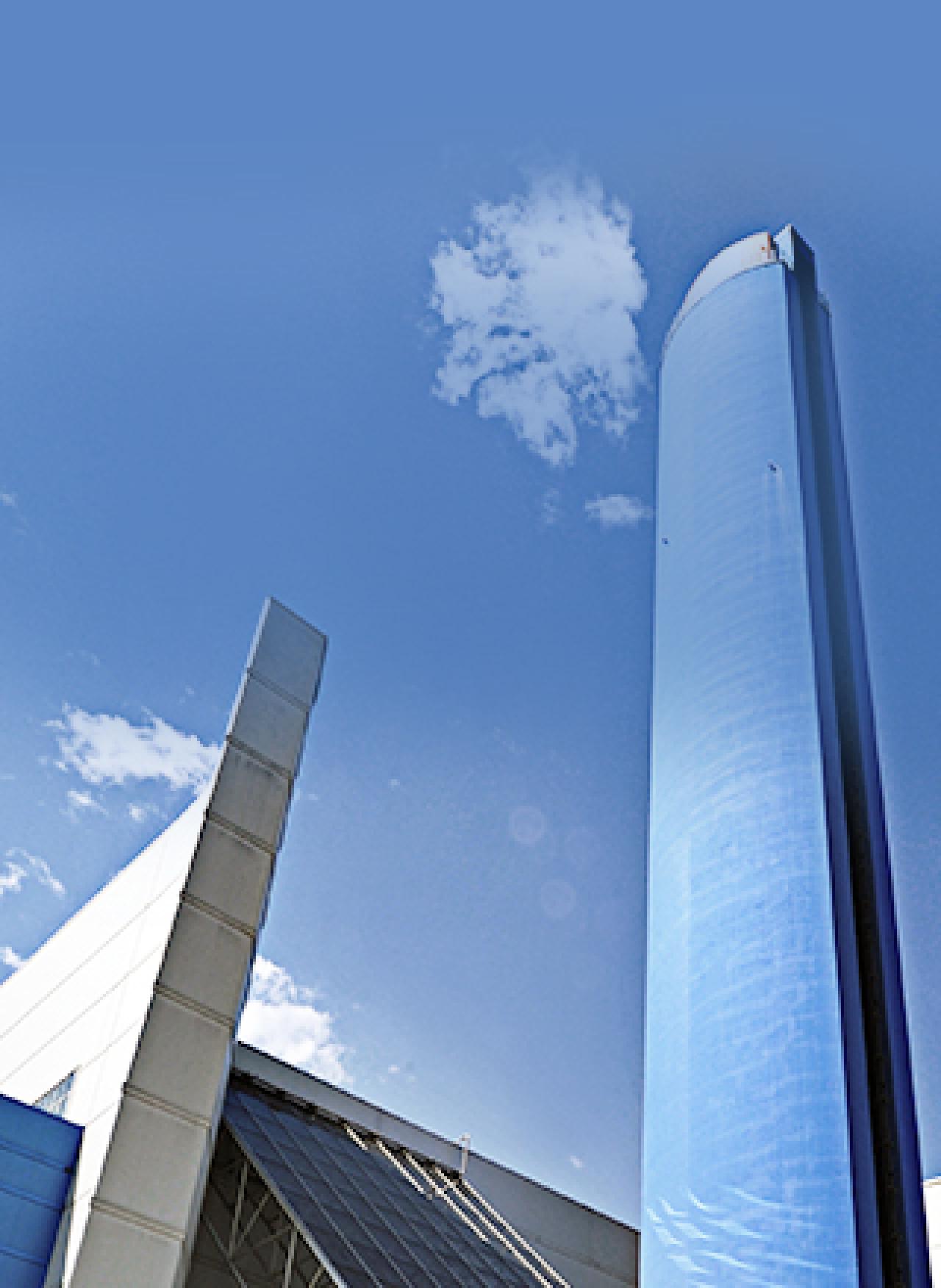 An architectural design for the waste-to-energy plant in Turin
waste-to-energy plant in Piedmont
of power from the turbo-alternator
metric tons a year. This is the plant's combustion capacity
The waste-to-energy plant in Turin, which provides electricity for around 175,000 homes, is one of the largest plants to be built by CNIM. A viewing platform built on top of the plant chimney, and accessed by a lift, offers a panoramic view of the Alps and the city of Turin.
Piedmont's first waste-to-energy plant
As part of its policy of managing waste within European regulations, Turin's city authorities opted to build a waste-to-energy plant for the treatment of domestic refuse. Following an invitation to tender, the TRM company (Trattamento Rifiuti Metropolitani) chose a consortium led by CNIM to design and build a turnkey plant that treats either household or special waste. The project was the first waste-to-energy plant for the northern city. Ambitious in terms of technology, it was equally inspirational in its architecture – with the building being designed by the Stile Bertone agency.
Three production lines
Among the key features of the facility, which features three production lines along with the treatment of flue gases, are the furnaces equipped with reverse-acting combustion grates – manufactured and installed by CNIM/Martin. The furnaces, which each comprise one grate with a nominal capacity of 22.5 metric tons/hour and a thermal power of 68.75 MW, can treat up to nearly 500,000 tons of waste and produce 350,000 MWh of electricity a year. The flue gas treatment system developed by LAB, a CNIM Group company, uses a dry process that involves the injection of activated carbon and sodium bicarbonate, along with a subsequent NOx reduction stage using a Selective Catalytic Reduction system. The combination of these technologies guarantees an excellent performance in terms of environmental protection. A lift installed on the exterior of the chimney provides access to a viewing platform, 112 meters above the ground, and a panoramic view.
A saving of 70,000 TOE
The production of energy from waste combustion (350,000 MWh a year, enough to meet the needs of 175,000 families) means a saving of 70,000 metric tons of oil equivalent (TOE).